RESEARCH PROJECTS
Dr. Prathikanti is keenly interested in discovering
which complementary and alternative therapies
may show scientific efficacy in the treatment of mood and anxiety disorders.


In 2017, she and her co-investigators published an intriguing research study,
Treating Major Depression with Yoga: A Prospective Randomized, Controlled Pilot Trial.
This is the first rigorous scientific study outside of India
to examine yoga as a solo therapy in diagnosed major depression.
Results show that in adults with mild-to-moderate major depression,
practicing hatha yoga twice-weekly for 8 weeks is associated with
statistically and clinically significant reductions in depression severity.



Click on links below to view some media coverage of this important pilot study: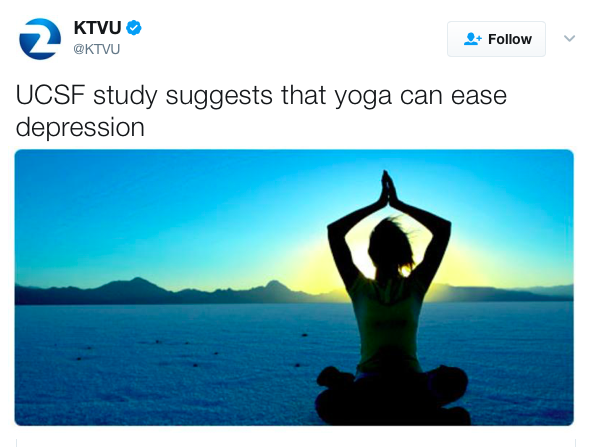 UCSF study suggests yoga eases depression (TV Broadcast-KTVU News)
Yoga can help adults with depression (TV Broadcast-KSAT News)
Shoud You Do Yoga to Treat Depression? (TV Broadcast-WXYZ News)
Integrative Medicine Seeks to Mend Mind-Body Split (Radio Interview-KALW)
Should You Do Yoga to Treat Depression? (U.S. News and World Report)
Is yoga an effective anti-depressant? (Psychology Today)
Yoga could help relieve depression (Psychology Today)
Major depression symptoms eased by yoga (MD Magazine)
Yoga May Be Effective for Mild to Moderate Depression (Medscape)
Yoga Reduces Depression Severity (Psychiatric Annals)
To read more about other research projects
at the UCSF Osher Center for Integrative Medicine, you may click here .